Our Timeless Collection is a popular choice for wedding bands and engagement ring styles. The new definition of timeless design, this collection takes classic shapes, settings, and designs and melds them with a variety of metals, textures, and techniques to create pieces with a universal style.

Many of the rings from our Timeless Collection are made using rose-cut center stones. This is an older style of cutting gemstones that started back in the 1500's when diamonds were cut with a flat bottom and faceted on the top. Some rose-cut diamonds are taken from older jewelry, and modern ones come in unusual shapes and different colors.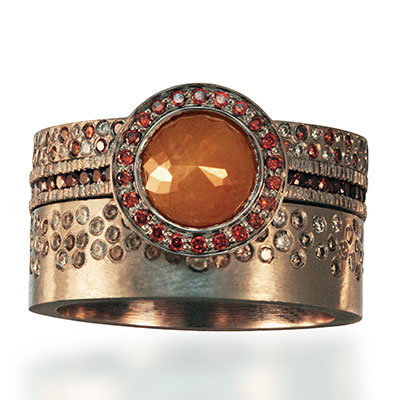 The beauty about the rose-cut diamond and gemstone is that because of the flat bottom, it is a great choice if you would like to stack your rings to be flush together with the overlapping center stone. The 3-ring set above was featured in Vogue magazine and has an orange-ish center diamond.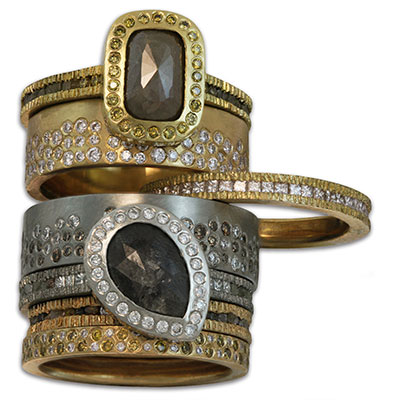 The rings shown on the bench below are made with rose-cut colored center diamonds and rubies. Each of these stunning engagement rings (or stacking rings for a different finger) has a different colored one-of-a-kind rose-cut diamond center stone. They are made in 18K rose & yellow gold and palladium with brilliant-cut and raw diamond side stones. You can see more work on the bench at www.dejanstudiojewelry.com/on-my-bench/.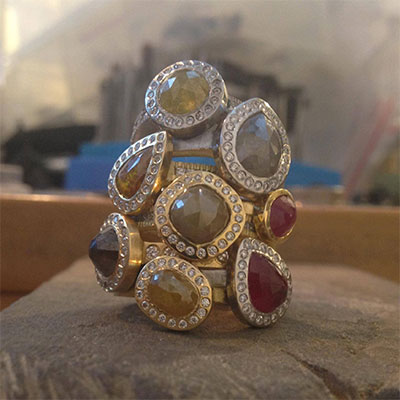 We enjoy each of our Collections to be slightly different, with the possibility of combining elements from a few of them at a time. Our Timeless stacking rings with rose-cut diamonds also go great with bands from our other Collections!