My client Cleta contacted me to set up an appointment to create a ring using parts of her older jewelry. I was excited to hear from her all the way from Florida. (You can read her ring narrative about her first experience buying a ring from us a couple of years ago below on this post.)
First she came to the studio with some of her jewelry and also with a friend to discuss options for designs using her older pieces with gemstones. Next, we used measurements from her stones to see different ways we could use them for creating a new ring. Then we provided several 3D options by email and also sent an image of a ring prototype made in silver to get an idea about the proportion of the design.
My client provided her feedback on the drawings and we readjusted the design to work with her suggestions to be sure she was getting what she really wanted before creating the ring in 18K yellow gold.

Shown above are some examples of 3D drawings and also a couple of the starting points for the design.
The ring turned out beautifully for the final result, and with complete client approval!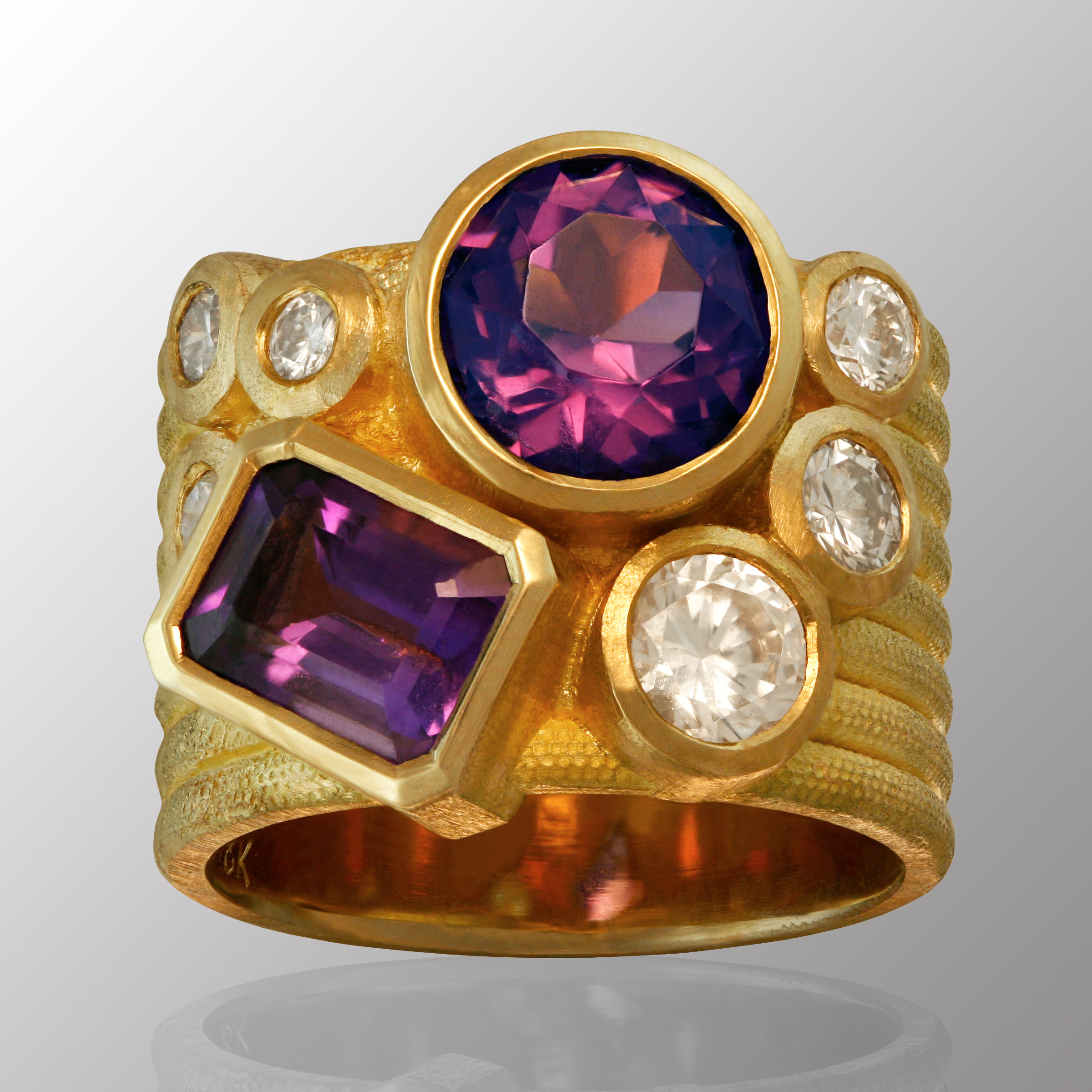 "I'm calling the ring 'Renewal'
The ring symbolizes where I am in my life, and the materials incorporated being from special people in my life."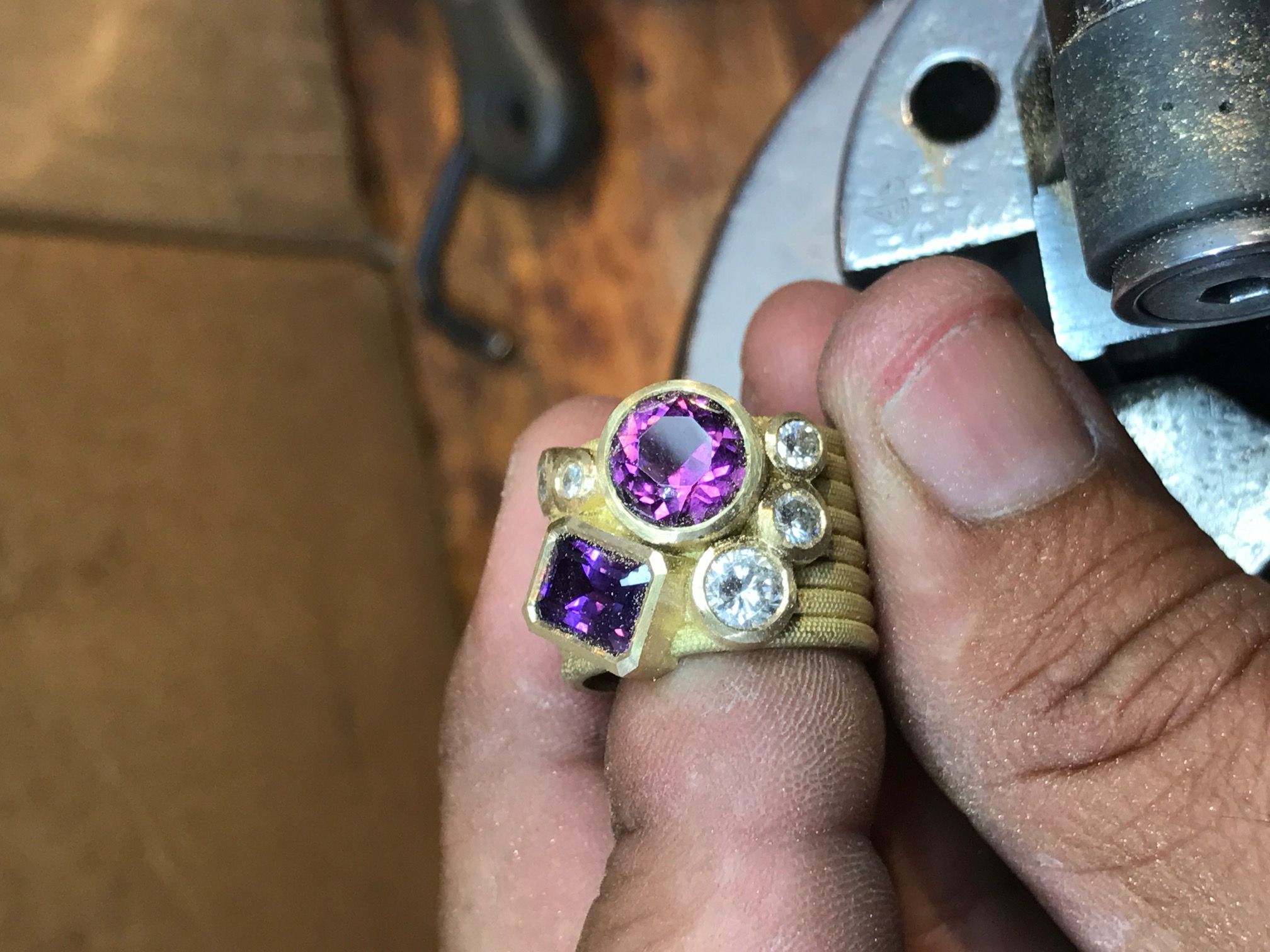 You can see more examples of our commission work on the website at www.dejanstudiojewelry.com/custom-designs. It was a pleasure creating this unique piece for such a creative lady!
Below is a ring narrative that Cleta wrote about her first experience with Dejan Studio:
Do you ever wonder . . . Having just arrived from Flor-I-DUH. My close friends say that we are going to start the fun, fun, fun for the days that I am in town. This being said we immediately head to a fund raiser that is being held at the Torpedo Factory in "Old Town". Naturally, I'm game - what could be more fun that the Torpedo Factory in "Old Town", especially, when you consider that it's always a favorite of mine, so Whoooooooooo we are off to a great start.
Now the really good news is that the fund raiser comes complete with nibs and drinks, and that the starting point is Dejan's Studio. Needless to say, the studio is packed to the gunnels - a person can barely squeeze their way to the back of the studio, and trying to sneak a peek at the "jewels" is almost impossible. Now, that's a good sign for the artist. I do, however, have a cute little silver ring catch my eye. I wanted to try it, but the traffic at the shop was just too much, so I moved on out of the shop, and wandered through the Torpedo Factory, stopping in shops that are always favorites, and others that caught my eye. During this time my friends and I are separated, but are quite comfortable with our situation. After a couple of hours of fun, we have reconnected, look at other shops, and enjoy each other's company. What else is this about for us. . . As we are about to depart, one of my friends says that she wants to show me a ring in your shop. By now the crowd has thinned and we can almost make it to the counter without needing to "take out" other clients. Guess what? The ring that had charmed me, had also charmed her. I'm thrilled, I encourage her to bring it home, and I'm even more thrilled that I have managed to be able to vicariously enjoy the ring for years to come. That's a winner for me.
Unfortunately, she choose to wear the ring the entire time that I'm in town. There is no way, that I can avoid seeing the ring, and thinking about how great it looks. By now, I'm thinking that I may need one, but I'm still holding strong. A few days into ring coveting, she has business to take care of. I'm left with a car, and a morning all to myself. Control/restraint has now left the building. I'm headed to "Old Town", the Torpedo Factory, and more specifically to Dejan's Studio. Now karma really comes into play. Dejan is in his studio, on a day that he is never in the studio. The ring was commissioned, it arrived in Flor-I-DUH a little while later. Now, I'm enjoying it and find friends and strangers are ogling my ring. Of course, I tell them the name of the artist and have passed along studio info - one of these days, I'm sure that other friends of mine will be sporting Dejan creations.
Sometimes we think we win by being able to talk a friend into a purchase. Other times we win when we finally succumb. Life is good.
-Cleta