Signet rings have a deep history dating back to Ancient Mesopotamia, Egypt, Greece, and Rome, and have been used throughout the ages to signify heritage and status, as well as for administrative purposes. They have been found in Egyptian tombs and referred to in the Bible. In the past, this powerful ring was sometimes even destroyed in a ritual.
After sealing with hot wax was developed, the crests were made to be depressed, or reverse engineered. These rings were used to stamp official documents, often by the king or nobility. This powerful ring was sometimes even destroyed in a ritual.
---
A few years ago John stopped by our studio visiting from Richmond. He had been by previously and was interested to create a family crest ring. Dejan went over options for materials & John decided to go with a combination of yellow gold and sterlium plus silver. The next stop was to work on 3D drawings and provide a few different options.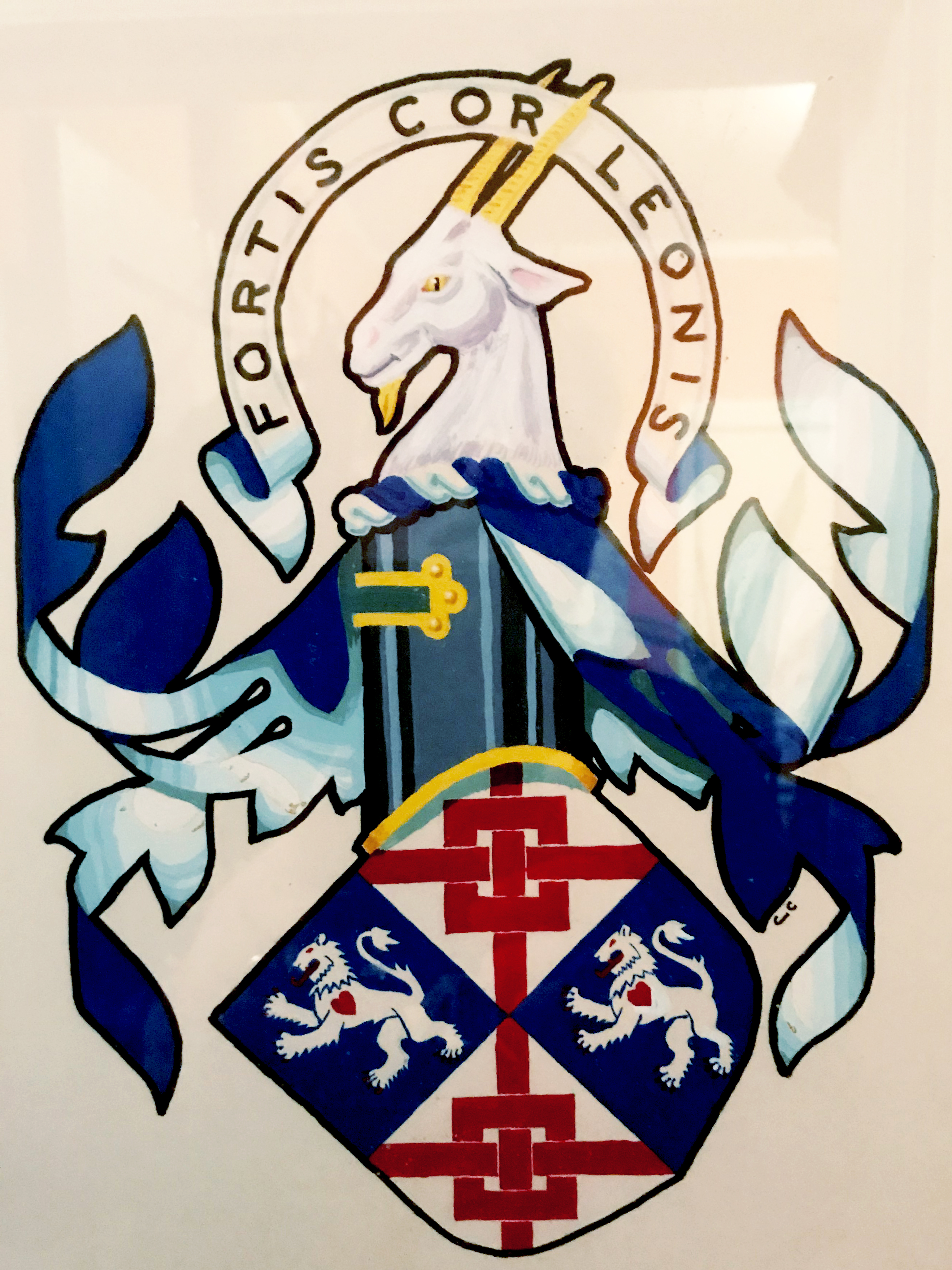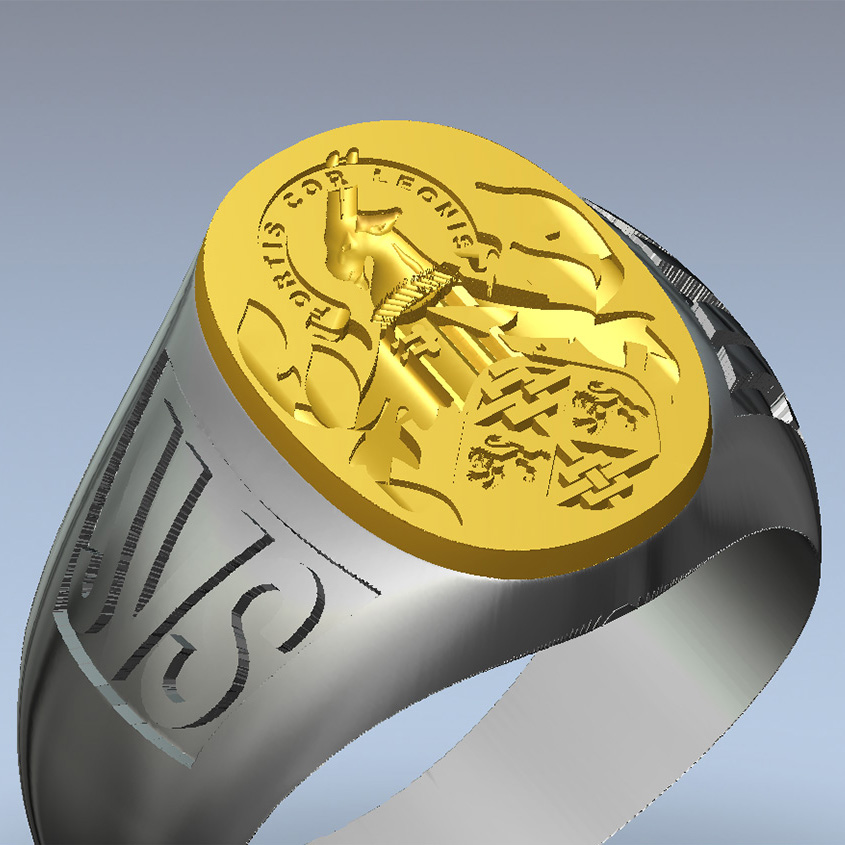 John picked his favorite one. After making the design in wax it was time to cast the separate parts and to combine them. The engraving had to be done over by hand after casting, to get the nice details & to be able to get the right feeling of the design. This is a similar technique to what's used in making coins.
So pleased with how everything turned out! Looks like John made the perfect choice!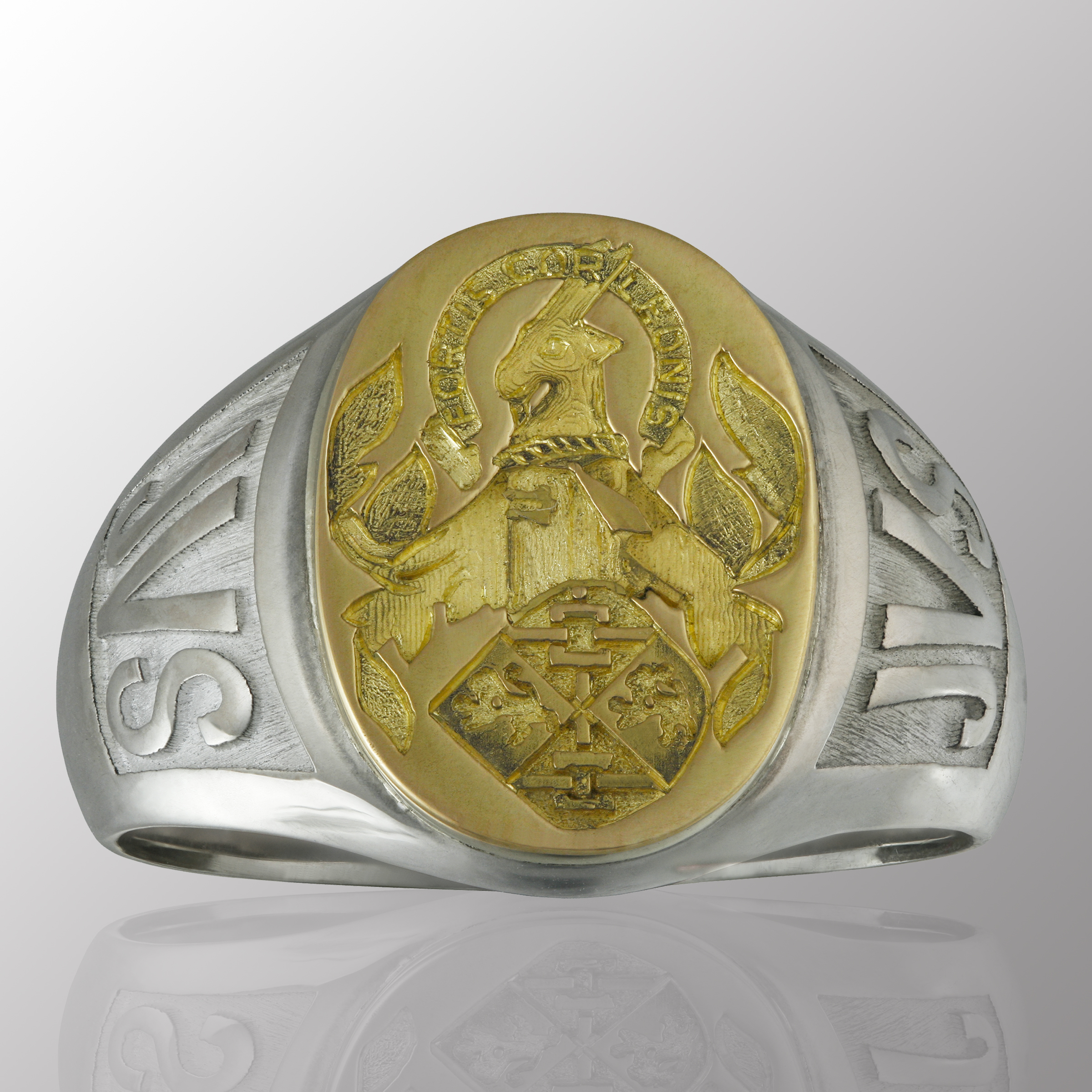 ---
Maria & her husband each have a family crest ring. Maria came to our studio to get her ring sized and asked Dejan Studio Jewelry if we could also design a ring for their daughter using the family crest like a starting point.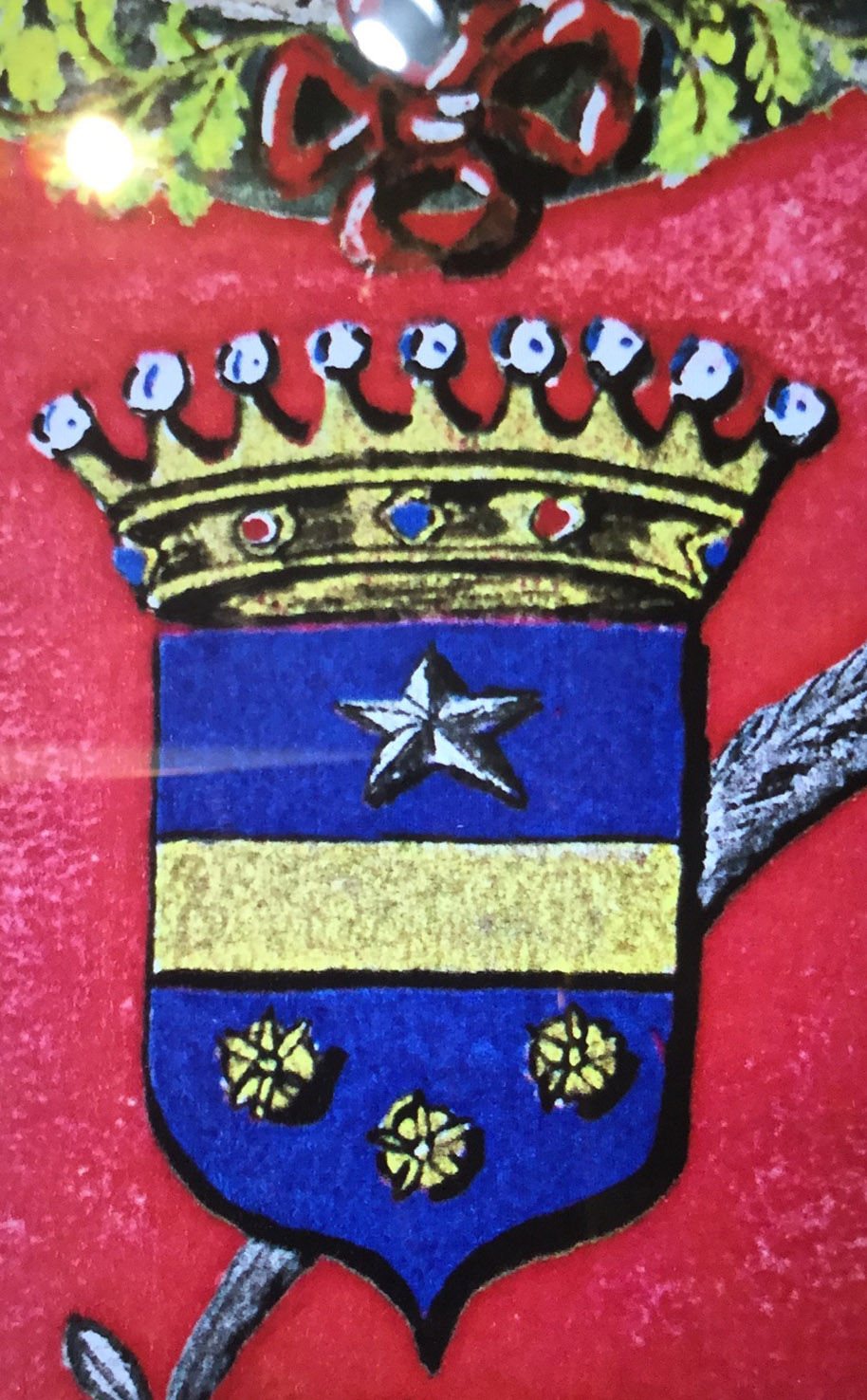 The first part of the process was to provide a couple of different options of 3D drawings to choose from and then to receive client feedback.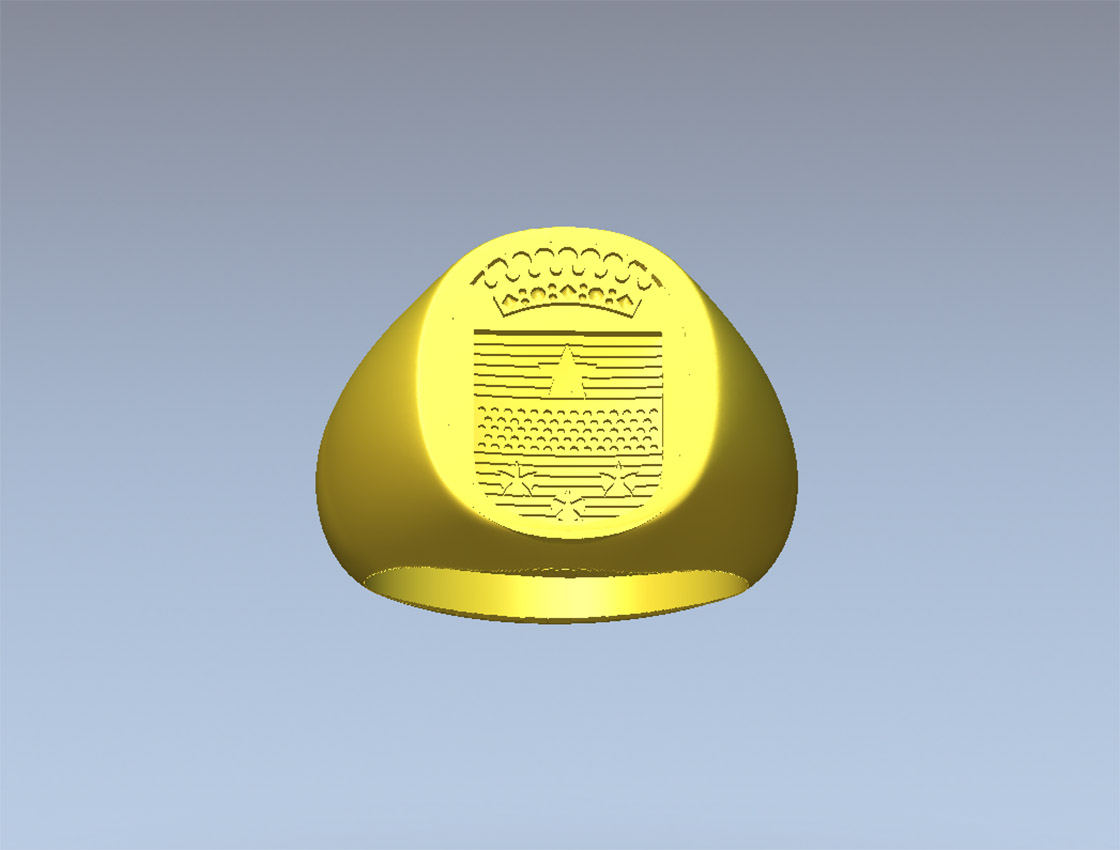 Loving the final results and new addition to the family!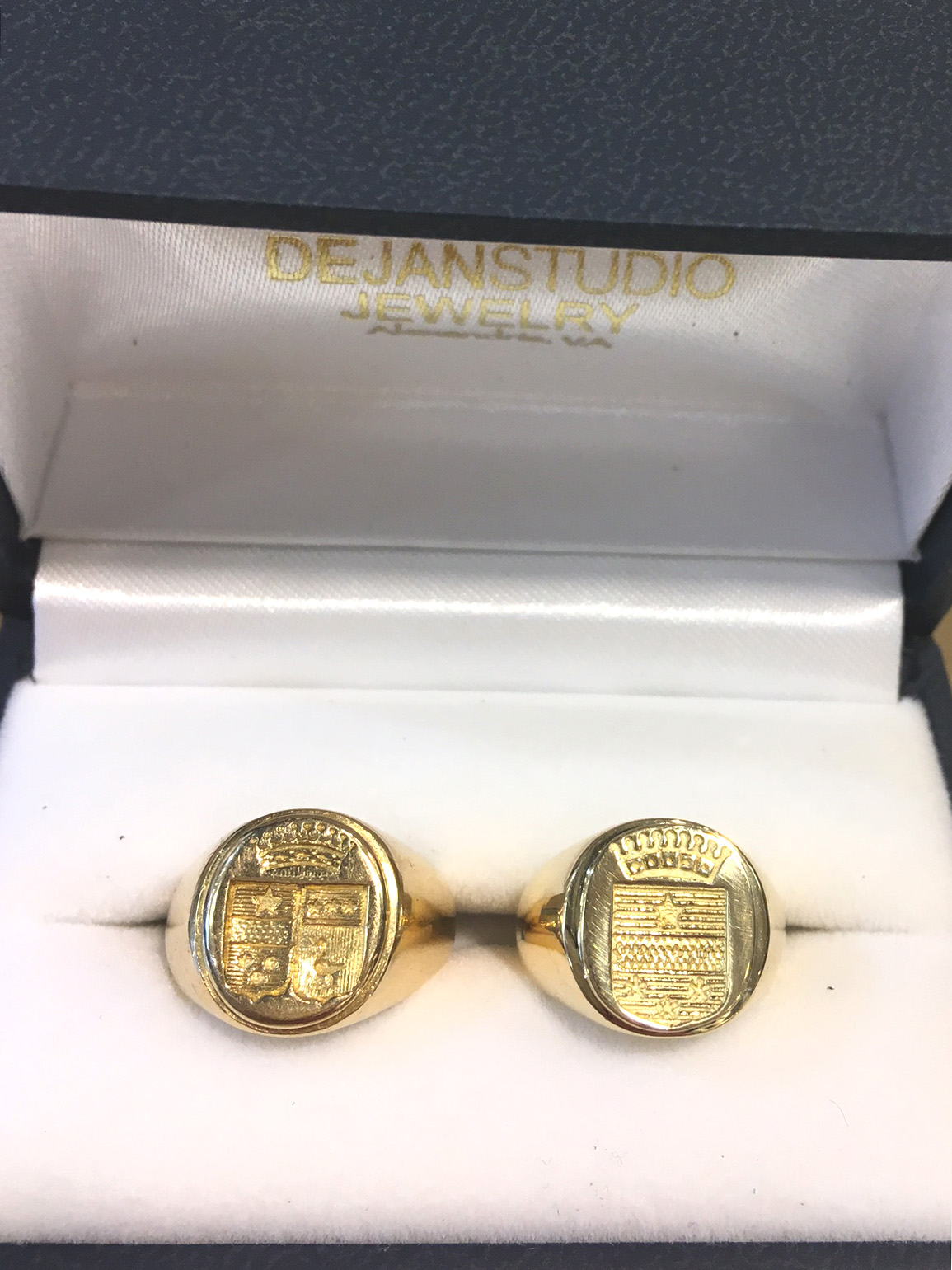 ---
Bruce was also interested in a custom family crest ring design in solid yellow gold. We took details from an image of a family crest ring and did research to get a finer sense of the details.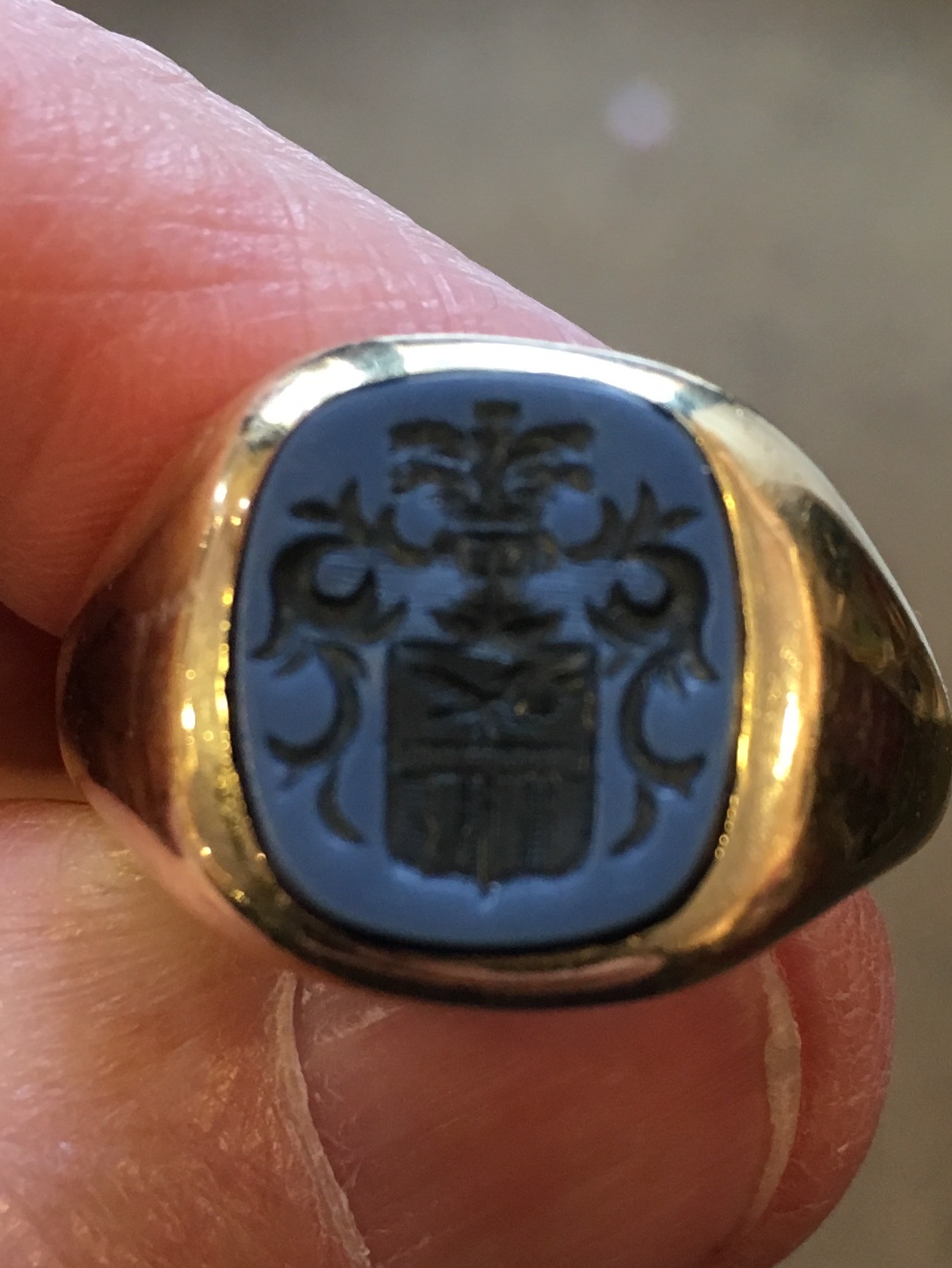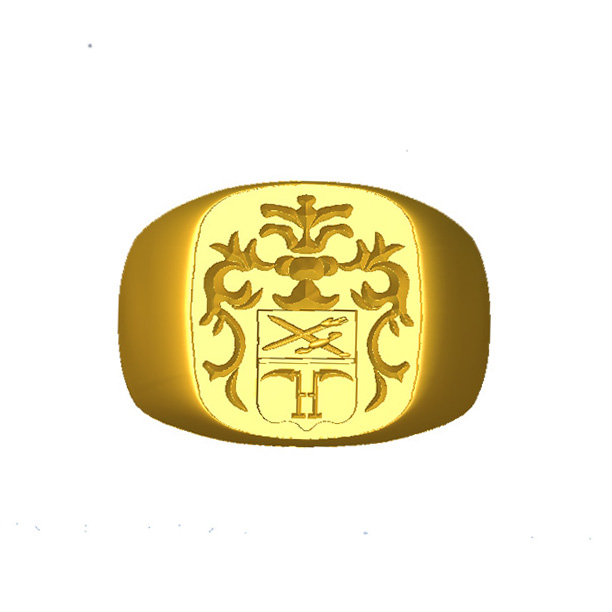 After casting the model in 18K gold, deep etching and carving techniques were used to get the final result. Looks great!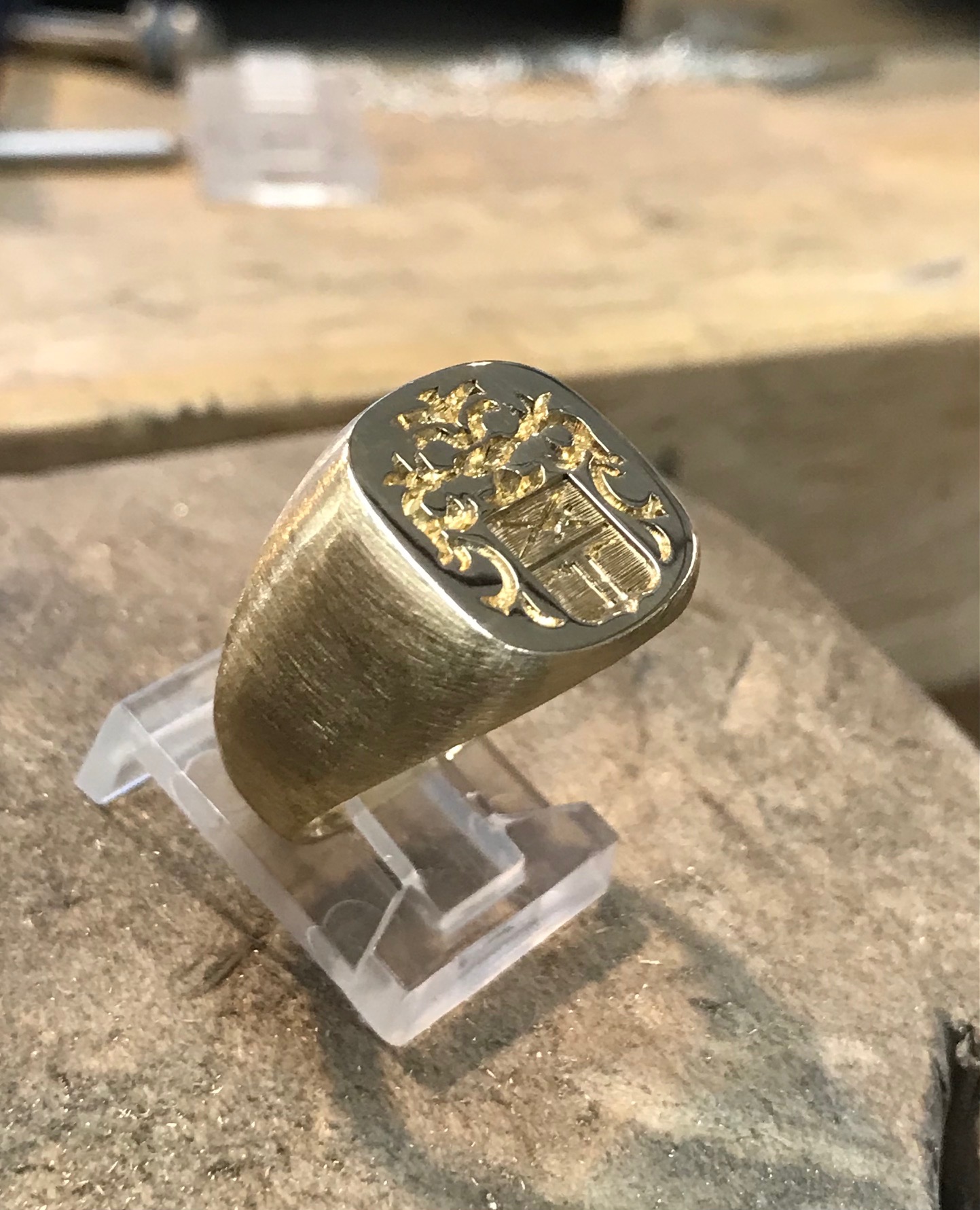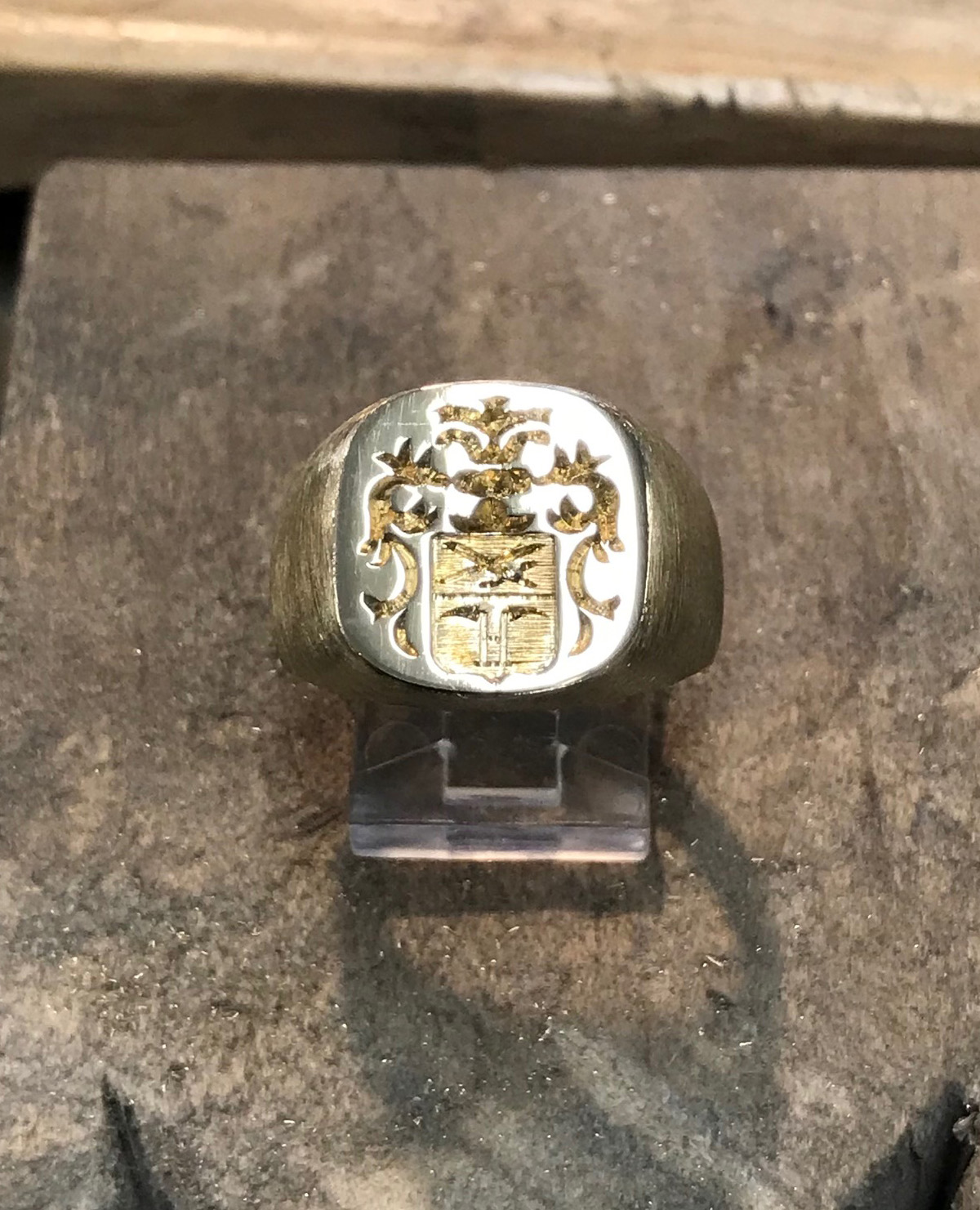 ---
Dan's family ring was designed based on his father's ring. The starting point is a lion with a crown on it, sculpted in 14K yellow gold and placed on top of specially cut onyx. The ring made it all the way safely to California.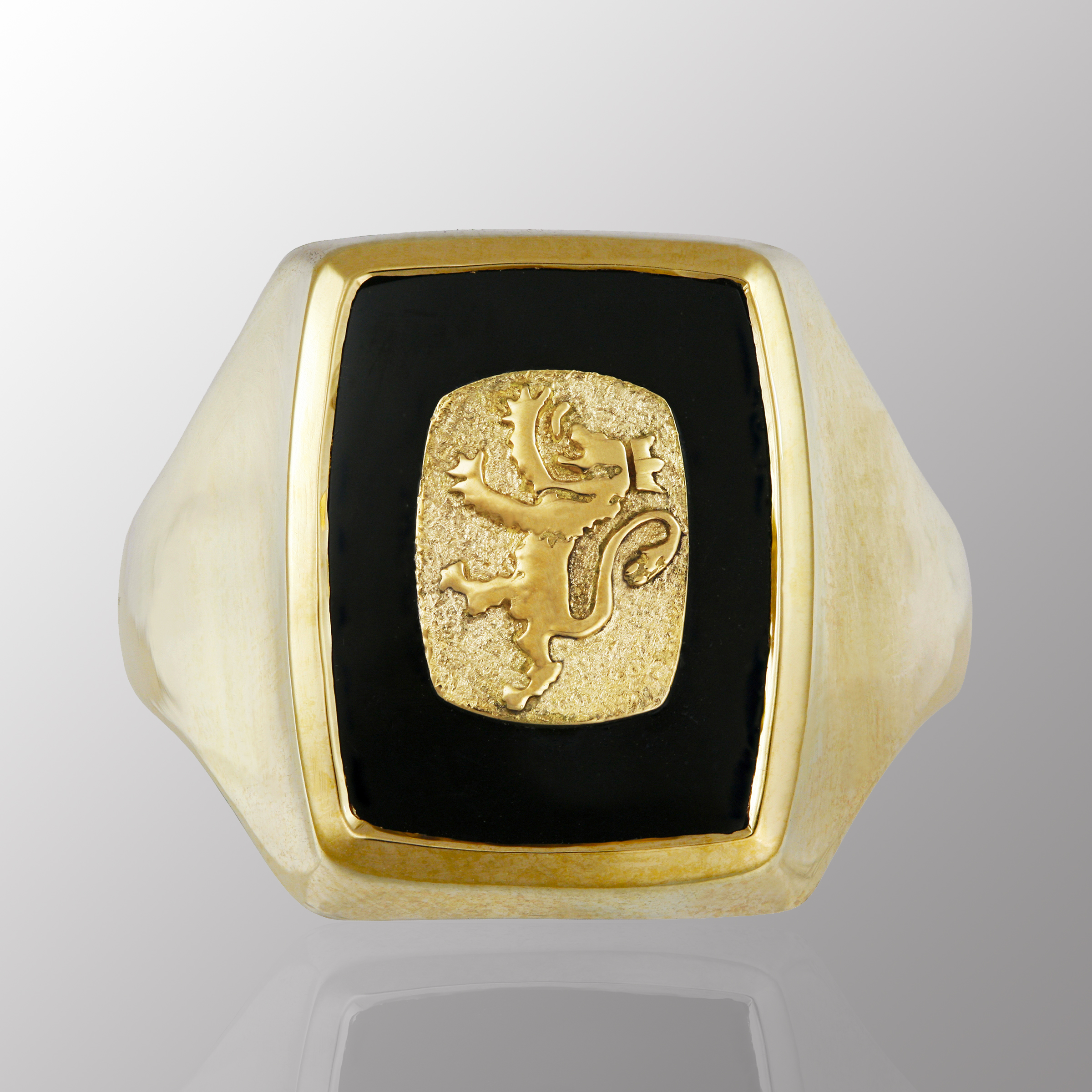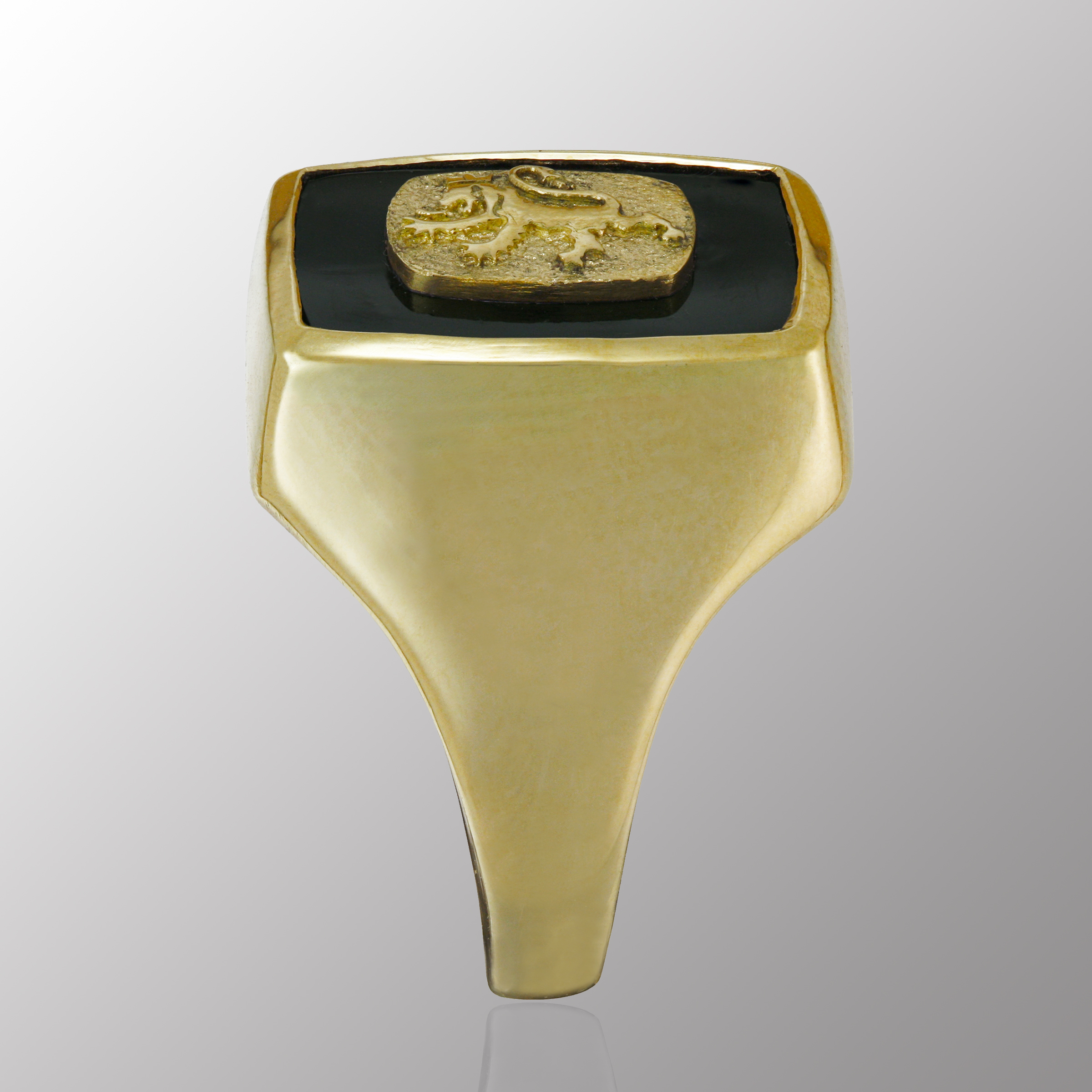 ---
John commissioned pinky rings using initials for himself, his father, and brother. We repurposed his older jewelry into these heirloom designs.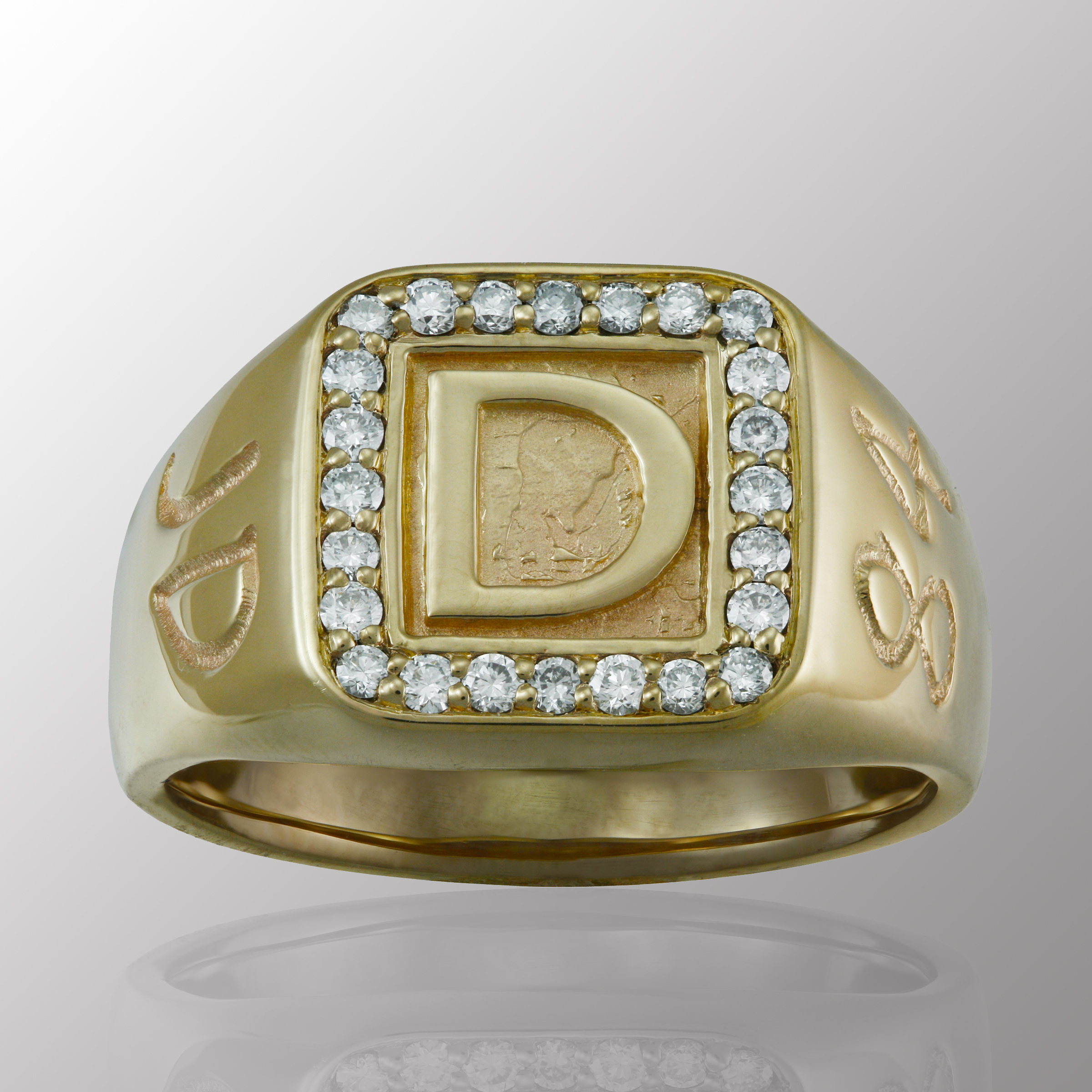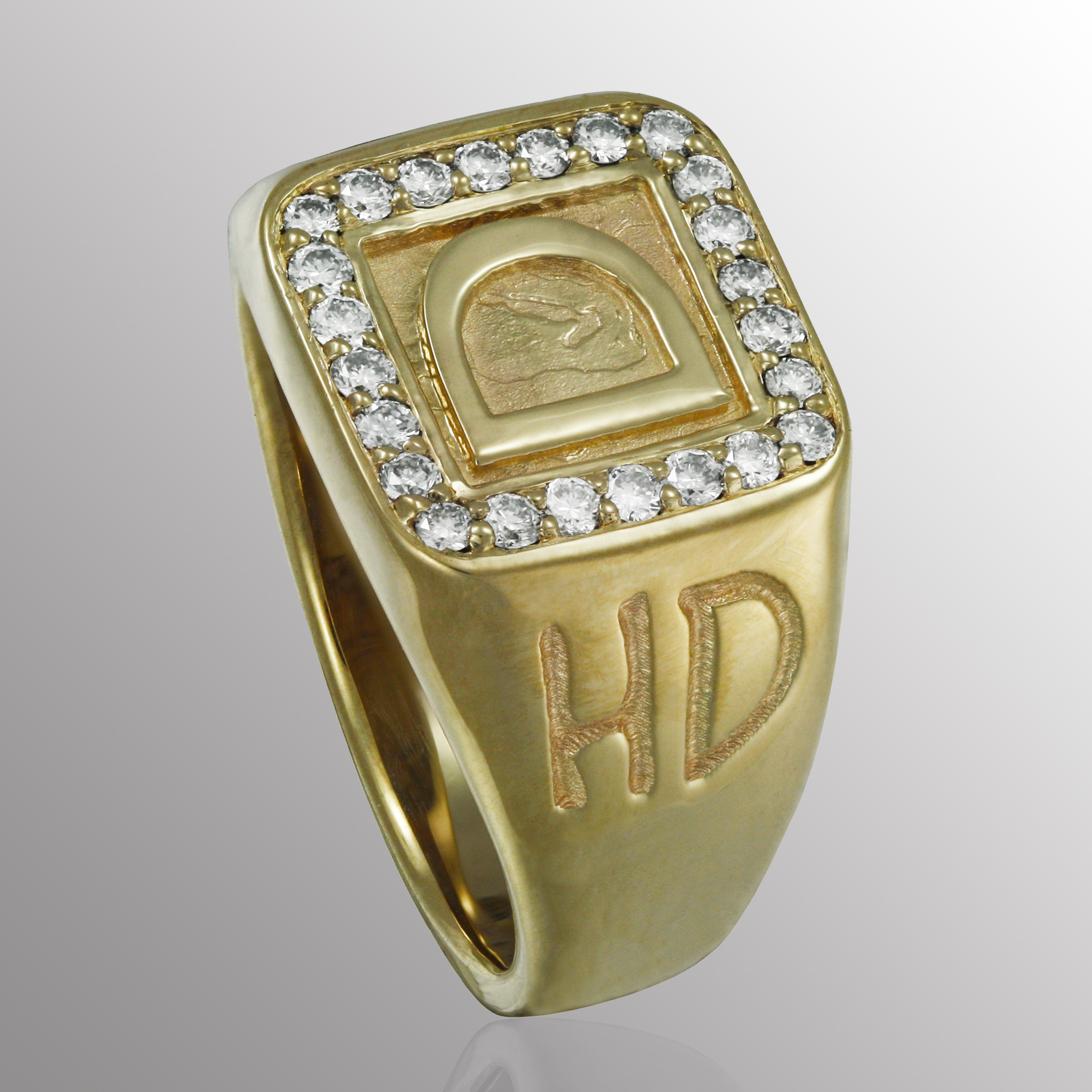 While no longer used to mark official documents, many signet rings are still passed down from the head of the family as an heirloom throughout generations. Signet rings with initials and monograms became made more commonly than those with the Coat of Arms.
It has also been popular to carve the crest or initials into stone. The C below is carved into onyx. You can also see our selection of crest & signet rings at www.dejanstudiojewelry.com/signet-crest-rings.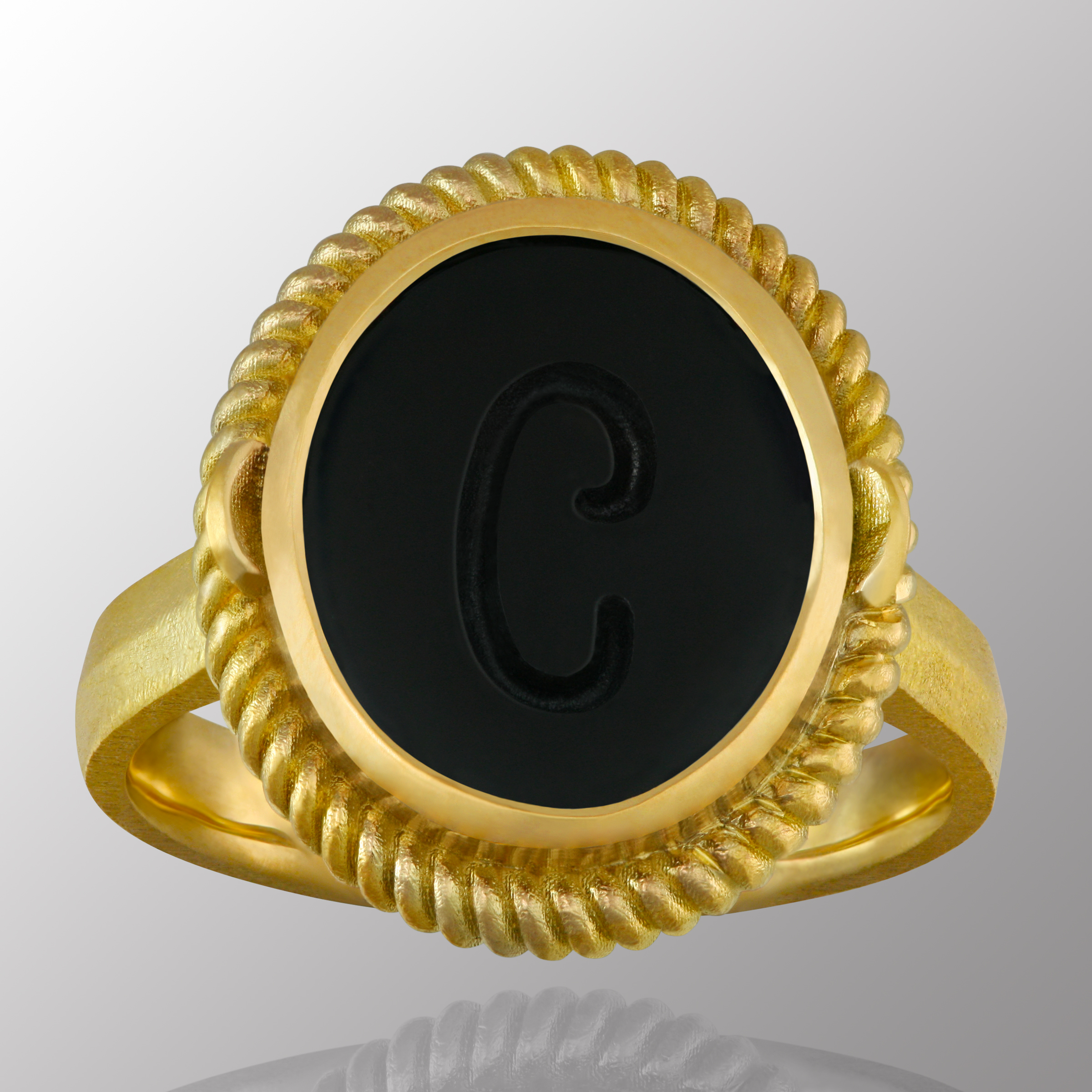 ---
After the Middle Ages, signet rings started to also be worn as a tradition for organizations. Dejan began working with Oakcrest all-girls school over 10 years ago when they were located in McLean.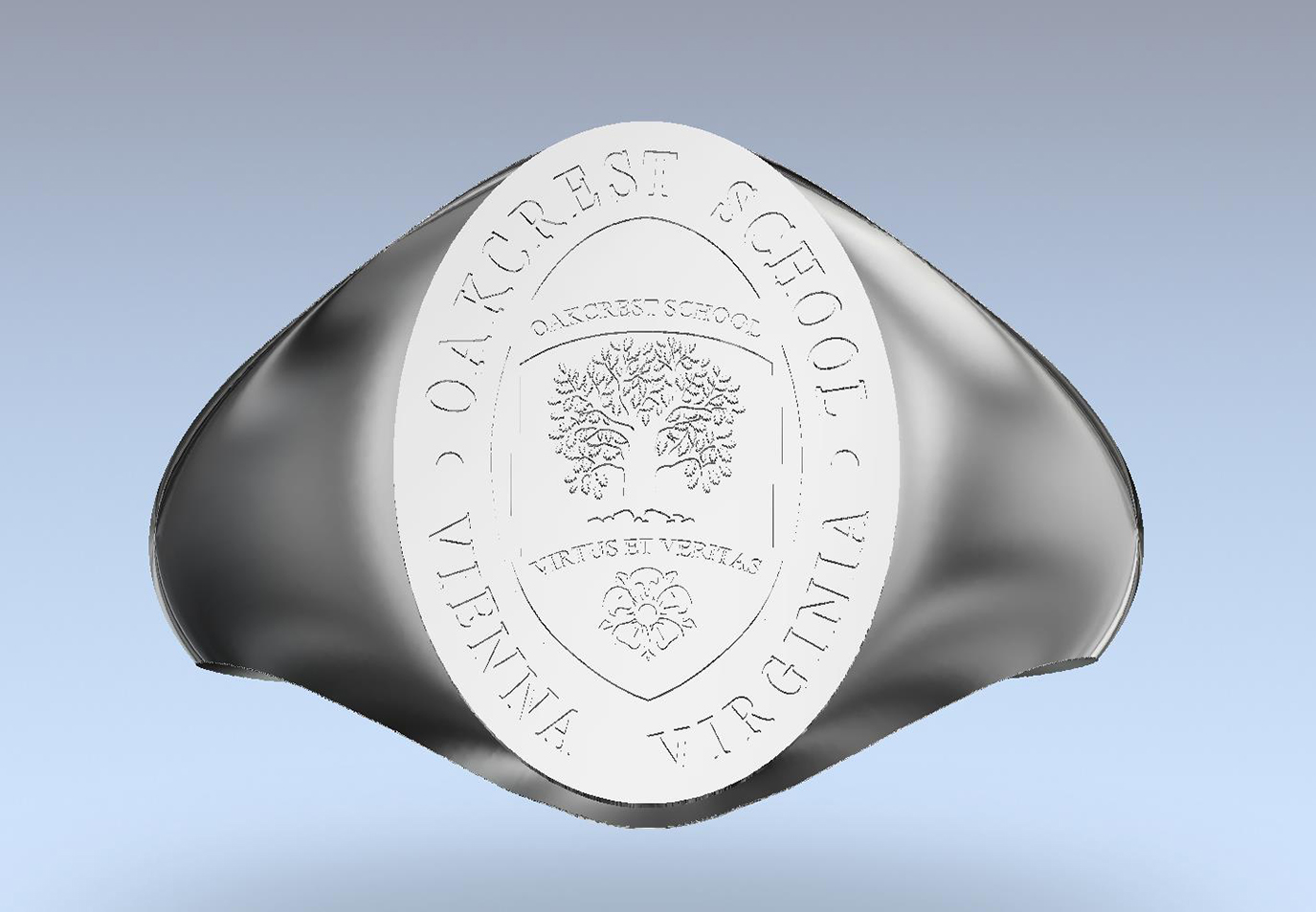 In 2017, Oakcrest expanded to its permanent home in Vienna and Dejan was asked to adjust the design of the ring to go with their new logo.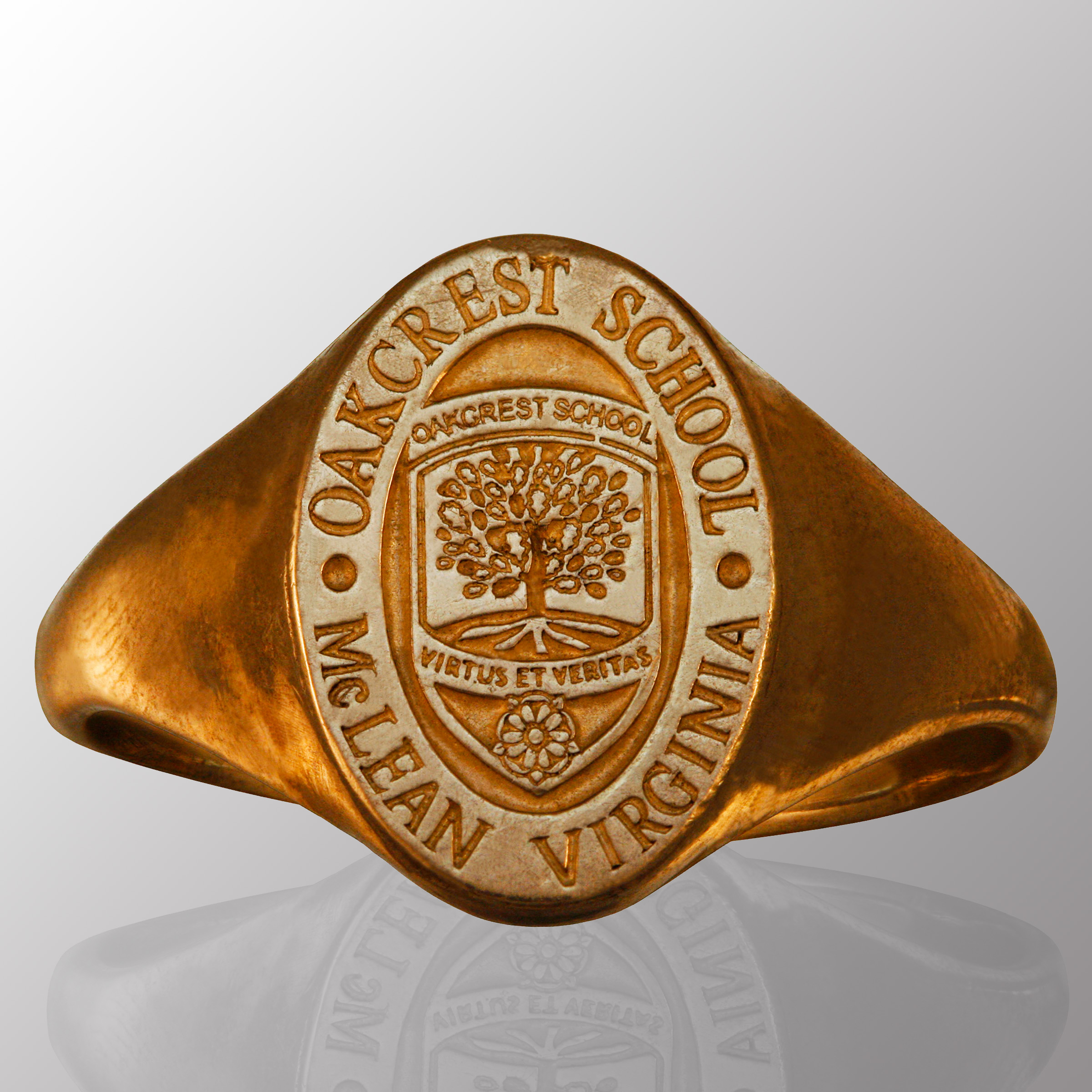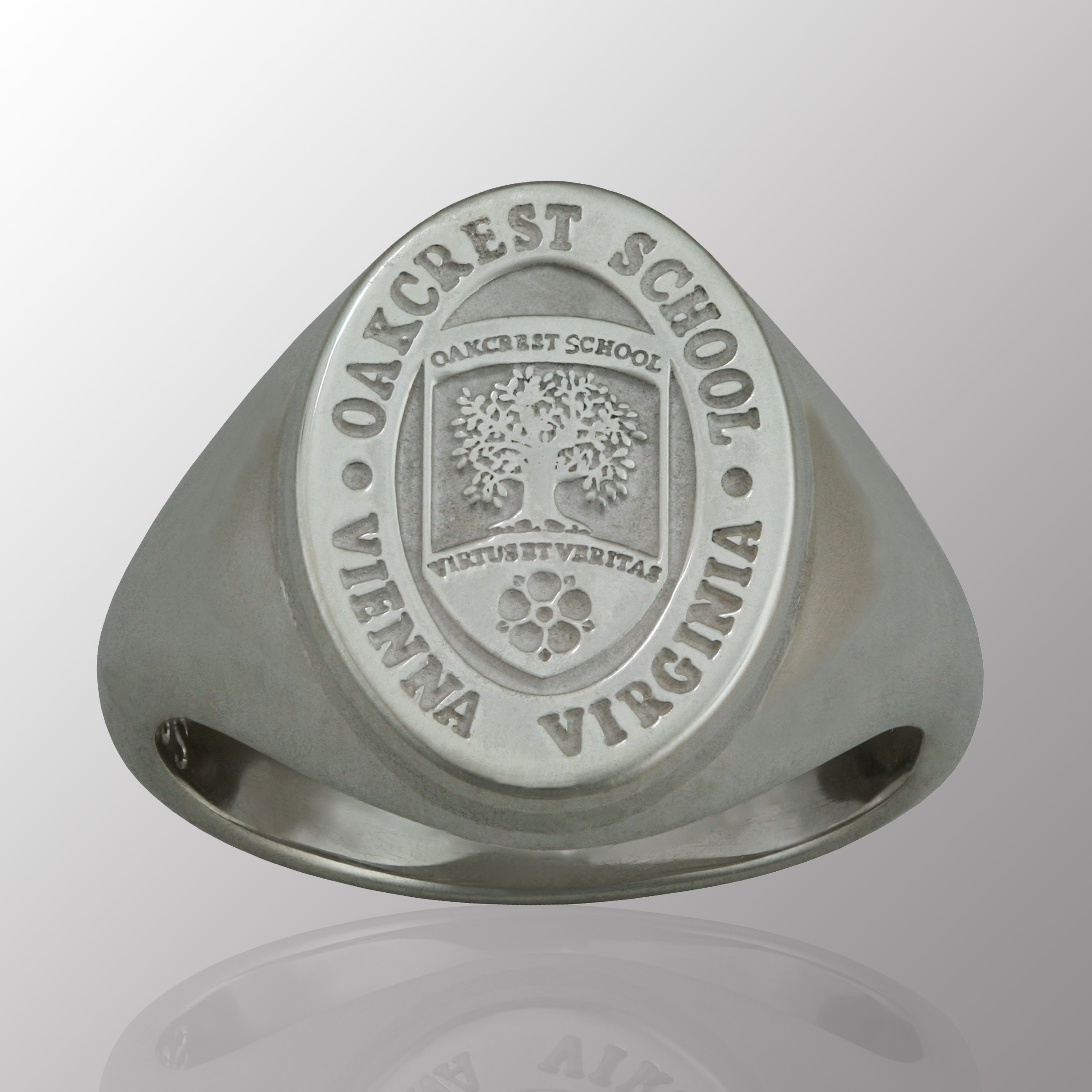 The rings are special ordered each year and we use sterlium plus silver to make them, with the option to do rose gold or yellow gold plating. The final step in the process is to hand engrave each of the girls initials & graduation year on the inside of the ring.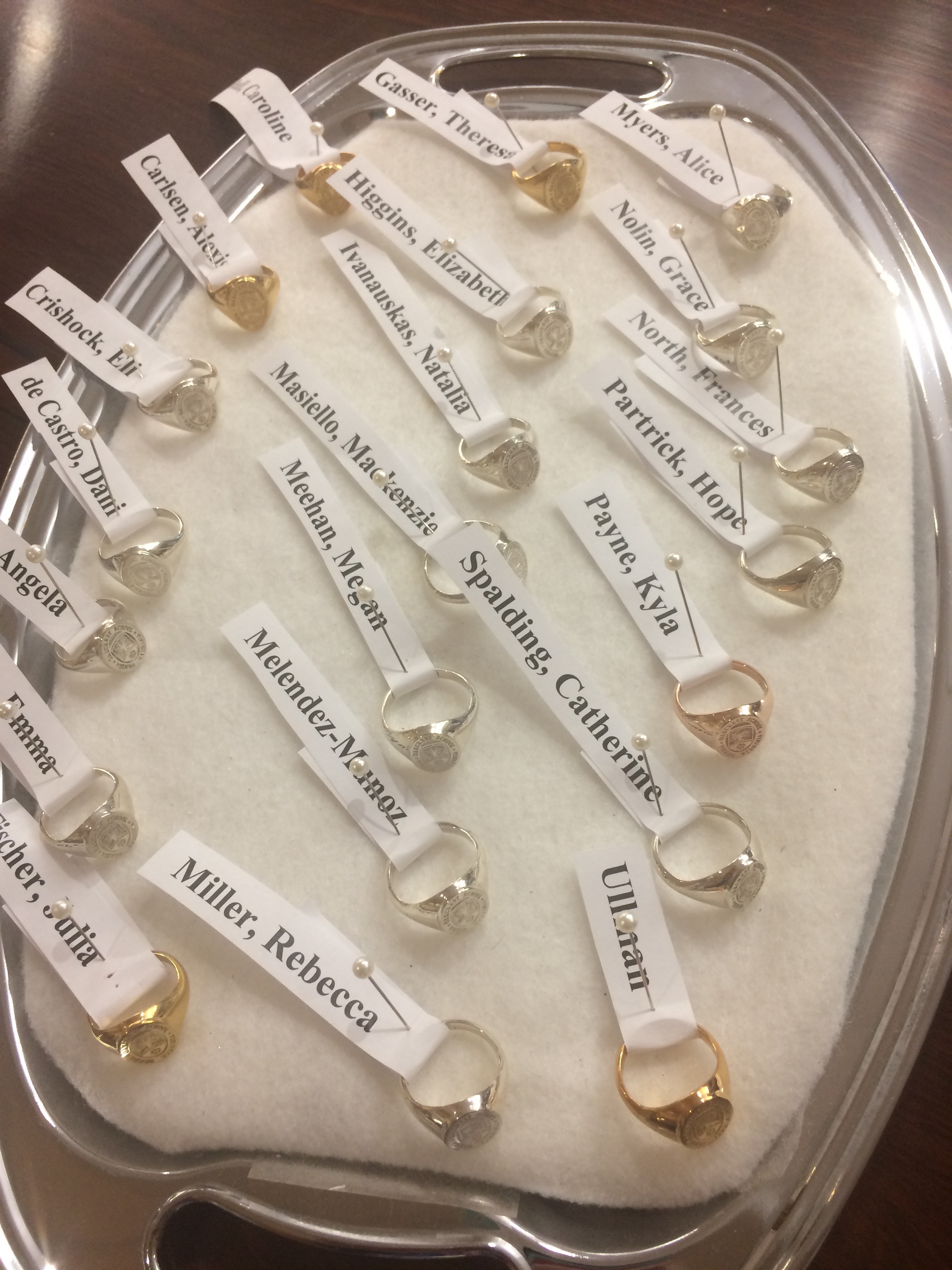 The Junior class rings symbolize a tradition that celebrates memories, friendships, community, and the overall Oakcrest experience.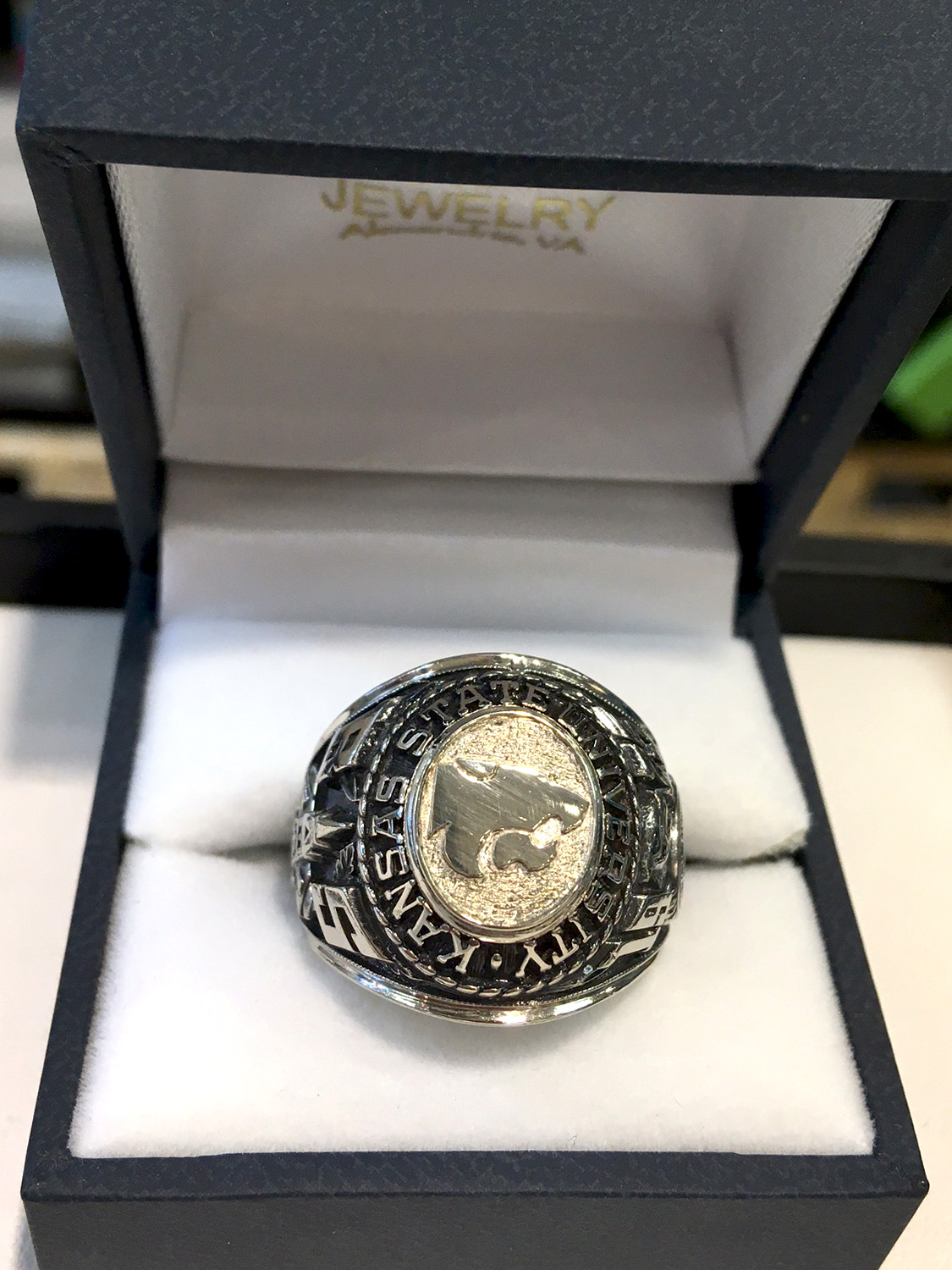 We even had a client commission us to design & make a Kansas State Wildcats class ring. Read more about our custom design process at www.dejanstudiojewelry.com/process.
---
You can also see custom wedding ring designs made using deep etching and carving techniques on our story at
www.dejanstudiojewelry.com/stories/turtle-unicorn-in-love-custom-wedding-bands, which have the feeling of a signet ring.
We are happy to help with whatever purpose you have for creating your signet ring, whether used for creating an actual signature or leaving your mark.
These are some of the most recent signet ring designs we have done below, which can also be seen on the website at www.dejanstudiojewelry.com/new.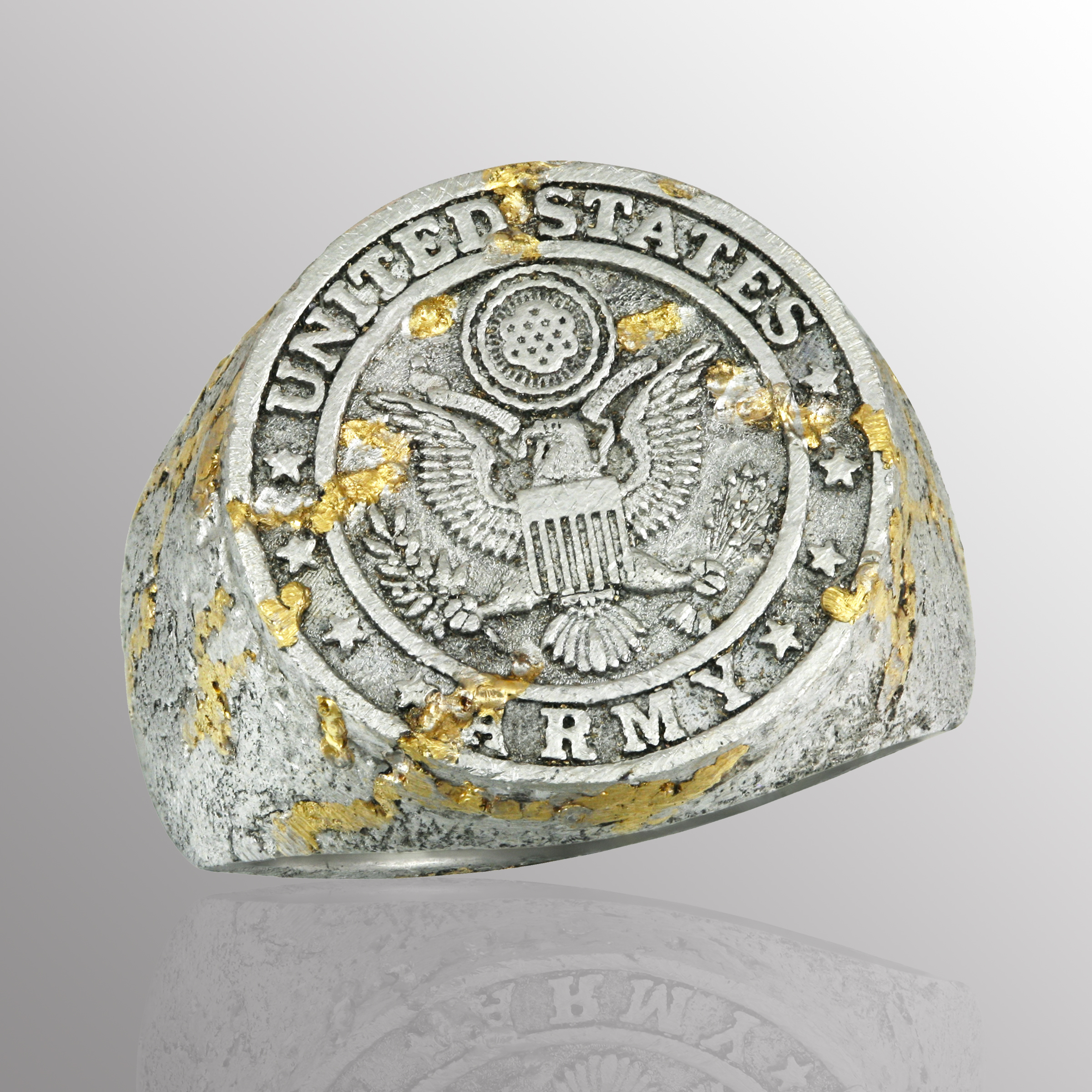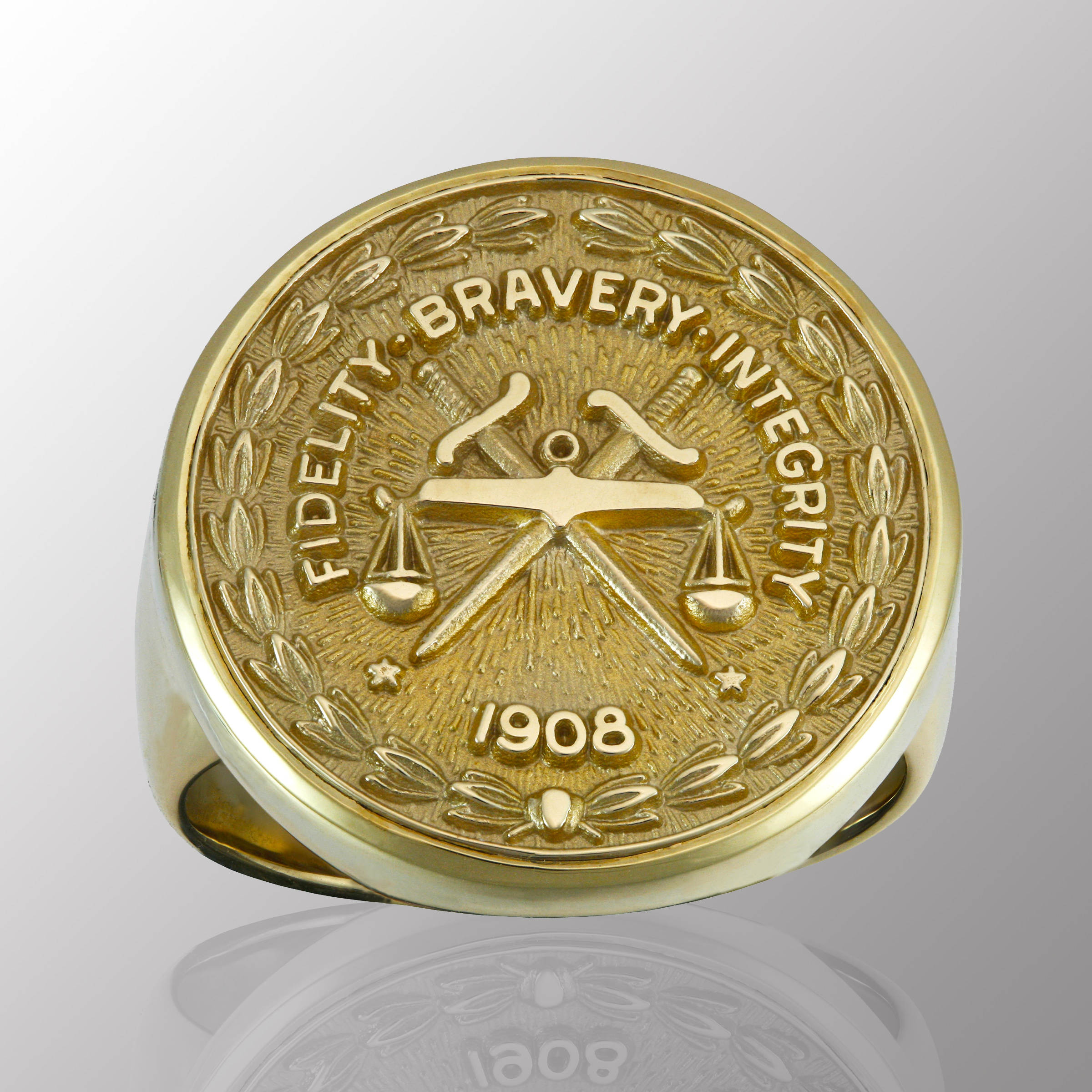 Thank you to everyone for the opportunity to work on these special designs!