Dejan Studio specializes in creating wedding bands to be the perfect fit for each couple. Because we make each ring in house, we can customize every wedding band to be a perfect match to last a lifetime. When in the market for a wedding band, there are a few important decisions to be prepared to make.
The process of choosing the right wedding band may feel overwhelming at first but we would like to provide you with questions to think about in making this decision as well as some other points to keep in mind to help simplify this process.
How do I want my wedding band to fit with my engagement ring?
Do my partner and I want matching rings?
What are the options for metals and gemstones available, and what are the best materials for me personally?
How will my wedding band stand the test of time, considering my profession and everyday wear and tear?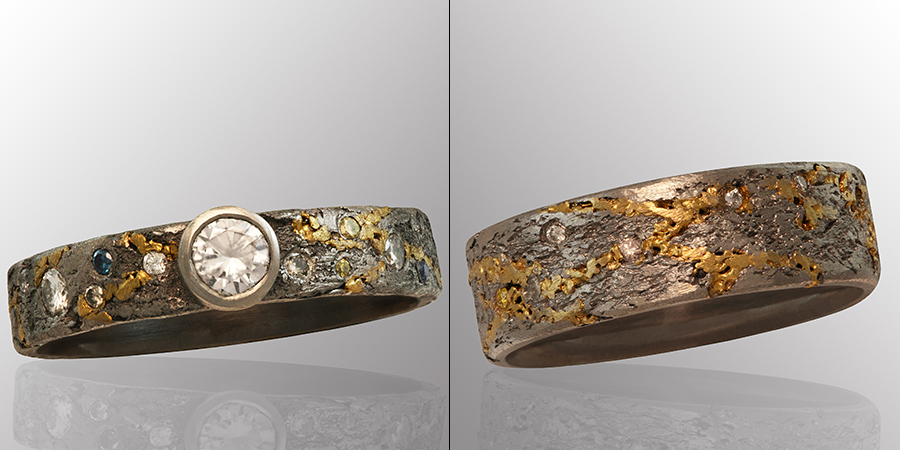 If you decide that you would like a wedding band that is made to wear with your engagement ring, it is important to create a complementary piece to accent your center stone and engagement ring. This may mean making your wedding band in the same metal, or maybe creating a ring that is a different color of metal that incorporates an inlay or settings made in the same color of your engagement ring to go together nicely.
You may also have an engagement ring that is passed down from the family and you would like to find something unique to fit around it. We can do that!
Pictured in the image below on the left, my client decided to get two bands made in palladium with raw and uncut diamonds & sapphires, created to fit around her antique heirloom engagement ring. Both wedding sets have two bands customized to fit around a unique engagement ring.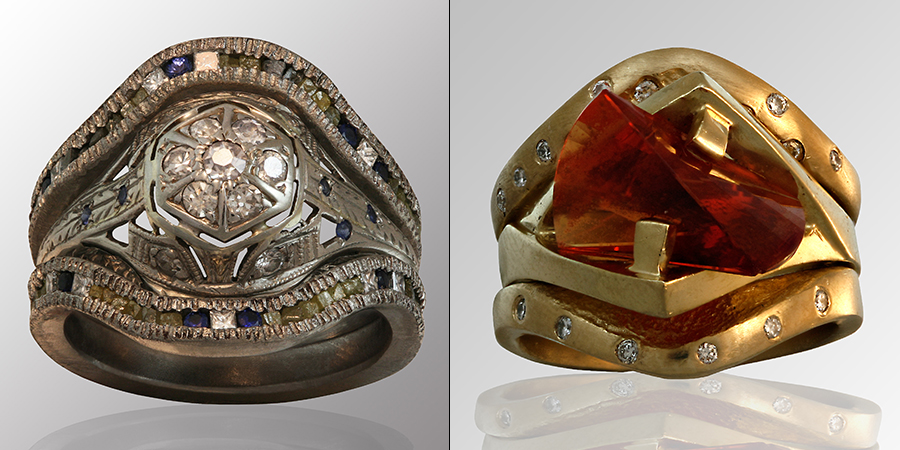 Proportions are another very important part of the process when it comes to making the best wedding band for your needs. It is important to match the height with your engagement ring and to see what width of wedding band will be best for your finger when worn next to your engagement ring.
If you and your partner decide you would like your wedding bands to match, it is nice to come up with some ideas of what elements you would like to be in both rings. It's best to consider this possibility of matching bands early in the design process, but the specific details can be decided as you move forward with your designs. It is also very possible to have two wedding bands that are completely different, as different colors and types of rings look differently on every hand.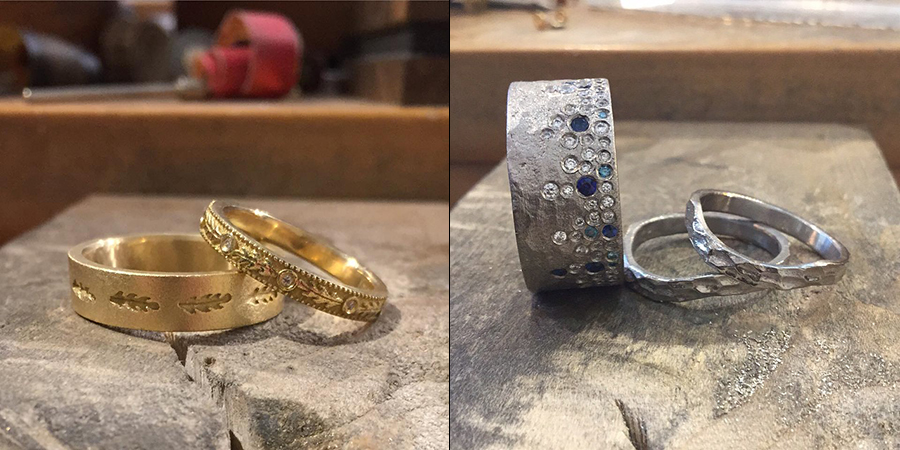 For men's and ladies' rings, the width of the wedding bands are usually going to be different because men generally have longer and wider fingers. This means that it is pretty normal to create a wider band for the groom. For example, Tres & Serenity decided to each have the Pecos river running along their bands, but each ring has completely different proportions and Serenity's band has a curve made to fit around her engagement ring.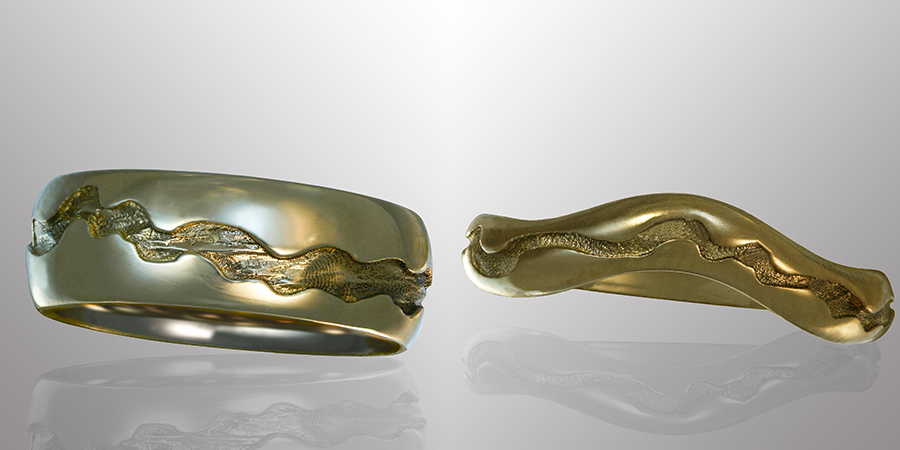 You may also want the women's band to be more sparkly with side stones, but to be made in the same type of metal with a similar texture and finish as the groom's band. Another option is to use different colors and metals but have a similar pattern in both rings that match.
One other important element to consider when choosing your wedding bands is how often you work with your hands for your profession and at home. Either way you go, it is important to pick materials that will maintain wear & tear, and sizeable metals are ideal for when your weight and ring size changes throughout your lifetime. Common metals for creating wedding bands are 14k or 18k gold, palladium, and platinum. For stones, diamonds are the hardest of gemstones and if you have family stones, we can work around those as well.
For more ideas and examples of our custom designs, please check the website at www.dejanstudiojewelry.com/custom-designs. You can also view photos of clients wearing their commission rings at www.dejanstudiojewelry.com/client-images.